Sheltering Our Community
Seven forward-thinking women founded The Cincinnati Woman's Club more than 125 years ago with the mission of education and philanthropy. In keeping with this mission, and in honor of our anniversary, CWC is conducting a year-long series of "Sheltering Our Community" projects. Focused on veterans, women, and children, the member-involved projects support selected non-profits whose mission is to help vulnerable members of our community. The first day-long volunteer effort in November celebrated active duty soldiers and veterans.
Sheltering Veterans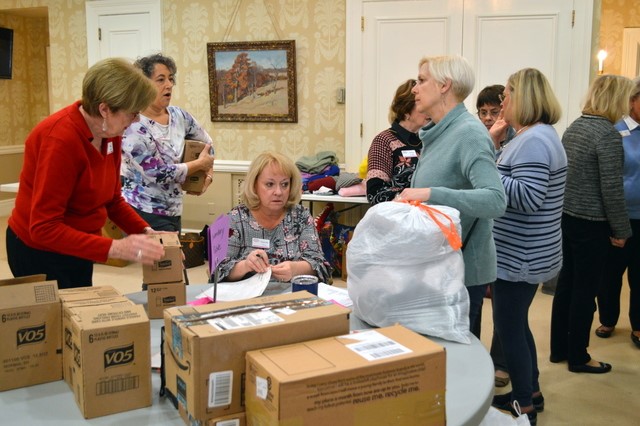 Sixty women spent November 1, 2018, preparing care packages for Project Care, Joseph House, and Mary Magdalen House, local charities that work extensively with our veterans in need.
Assembled 40 care packages for active duty soldiers.
Sorted and assembled 150 bags of bedding, clothing, food, and toiletries, and 40 gift bags for homeless vets.
Created 65 fleece blankets.
Cory Paul, a veteran who is the CEO of the Red Cross in Dayton, shared his military story.
Representatives from the supported agencies talked with members about the work they do.
Sheltering Women
On February 27, 2019, members donated and packaged supplies for four agencies: Serenity House, Mary Magdalen House, the Center for Respite Care, and the YWCA Domestic Violence Shelter.
Once again, at this second volunteer effort, representatives from each of the supported agencies presented about the work they do. The featured speaker, a graduate of Serenity House, shared how she was able to overcome her addiction and now helps others.